Actionable insights for consumer brands
Alloy.ai is your company's demand and inventory control tower, arming you with daily SKU-store level insights so you can quickly sense problems, predict issues your competitors won't see coming and respond in seconds instead of days.
Purpose-built for consumer goods brands
We are in an era of constant and extreme volatility across supply and demand
Challenges brands are struggling with:
No real-time visibility into consumer demand and inventory positions across their retailer's network and their own
Can't respond quickly to shifts in the market without a near real-time access to SKU-store level data
Data is siloed across teams and systems as Sales and Supply Chain teams manually aggregate and analyze
Introducing the first Demand & Inventory Control Tower for consumer brands
The powerful Alloy.ai data platform brings your POS, inventory and supply chain data together in one place so you can get instant insights with a fraction of the effort.

Grow sales, save time, reduce waste and decrease costs.
Alloy.ai platform connects real-time demand data from hundreds of retailers with supply chain visibility giving you a single view of sales and inventory. Here's how it works: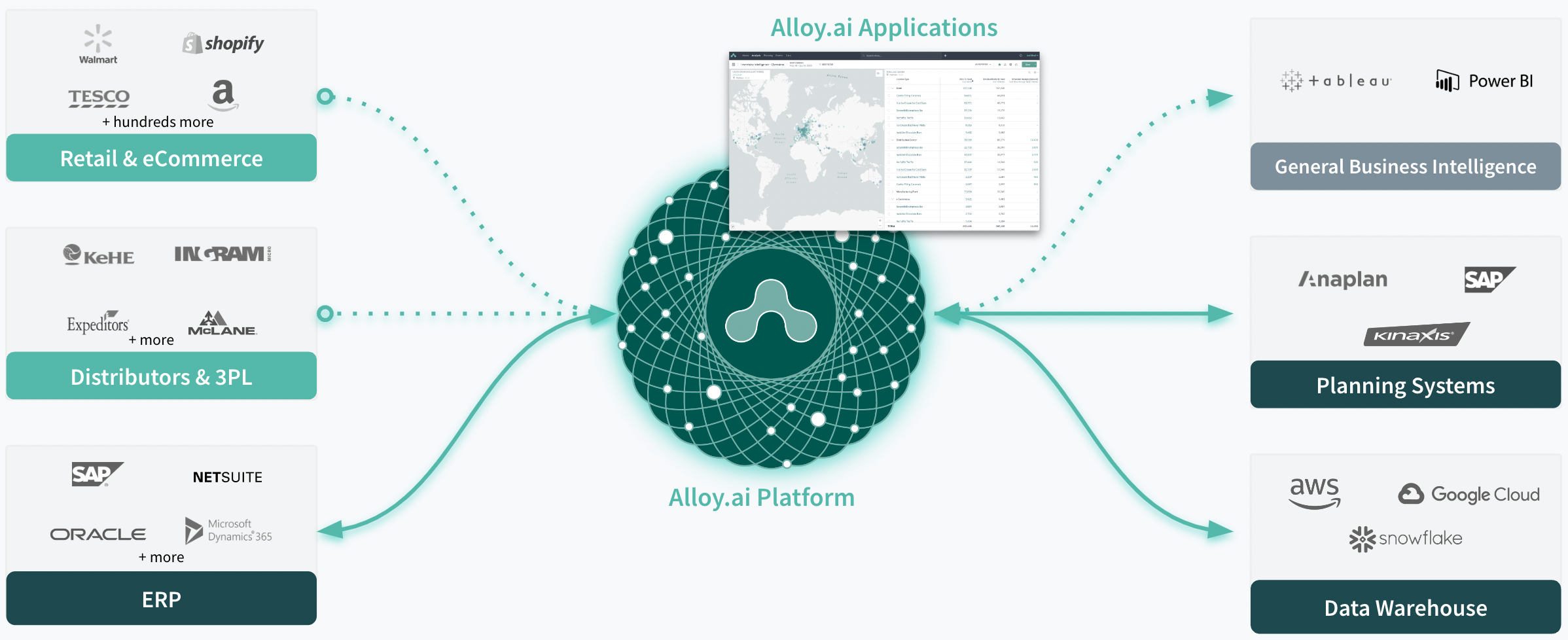 How customers use Alloy.ai
See how Alloy.ai can help your team
Alloy.ai Named a Leader in Retail Analytics
Alloy.ai's unmatched customer experience and strong market presence earned us a spot in the Leader quadrant in Retail Analytics in G2's Spring 2023 Grid Report. See why 94% of our customers said they would be likely to recommend Alloy.ai.
Alloy.ai provides us with a dedicated team of data scientists to wrangle all the data and give us a single source of truth, so we can do all the analysis we want to do. That alone is worth the subscription cost.
I brought Alloy.ai because I need to be able to understand where I am hurting across the supply chain in real time.
It's been critical to have Alloy.ai to help connect the dots for us. Alloy.ai not only provides real-time inventory and turn information, but also connects the dots with POS to predict where it is that I'm likely to have spoils - in time for us to do something, like work with that retailer earlier to move the product faster.
The two things that by far stand out to me are the simplicity of use – like how common sense the dashboards are, and if I'm looking to do something, I can do it myself – and the customer service – having an account rep who helps me when I'm stuck. I think it's awesome to have someone on the Alloy.ai side to be able to build dashboards with me.
Alloy.ai gives us a complete global view of our business, across all accounts and all regions. It allows every person in the company to access the data and utilize it to drive our business. It has allowed us to build trust with our retailers because it's their data. When we're talking to someone at Walmart, there is no question about the data source. Alloy.ai has allowed us to unlock a lot of conversations and it's easy to use to find what you want.