All of your data — at your fingertips
The Alloy.ai data platform was built for data from across the consumer goods supply chain. Break down silos that separate your data, systems and teams with a unified architecture that integrates, harmonizes and enriches data from your partners and internal systems.
Integrate, cleanse and enrich data from internal systems or partners in real time
Automatic, real-time collection of internal and partner data frees up your team and improves data quality
Pre-built connectors use techniques like RPA to continuously ingest demand and supply data at the most granular levels
Integrate from anywhere with a data-format agnostic platform, including from partner portals, EDI, spreadsheets, email forwarding, APIs and more
Cleanse and verify the recency and accuracy of data ingested from other systems
Harmonize disparate data across internal and partner systems to create a unified representation of your finished goods supply chain from manufacturing to your consumer
Sophisticated data modeling and AI create a unified representation of your finished goods supply chain
Translate SKU identifiers, units of measure and other attributes across distribution partners and your internal systems
Map locations and location types, shipment lanes, DC inventory targets, lead times and more by SKU
Understand the past, present and future by flexibly analyzing your data at any time interval, modeling different fiscal calendars, granularities, forecast versions and more
Once your data is collected and harmonized, Alloy's predictive analytics and forecasting engines create forward-looking views of your supply chain so you can anticipate stockouts and predict demand
Machine learning algorithms keep you ahead of supply-demand imbalances
Predict outages or overstocks with forward-looking metrics like Future Weeks of Supply for every item-location combination in your network
Forecast unit sales with a selection of seven different out-of-the-box models
Simulate the costs of inventory risks with metrics like Lost Sales $ or Spoils $
Identify instances of phantom inventory within your retail network
Instant visibility into demand and inventory.
Finally.
Grow sales, save time, reduce waste and decrease costs. The powerful Alloy.ai data platform brings your POS, inventory and supply chain data together in one place so you can get instant insights with a fraction of the effort.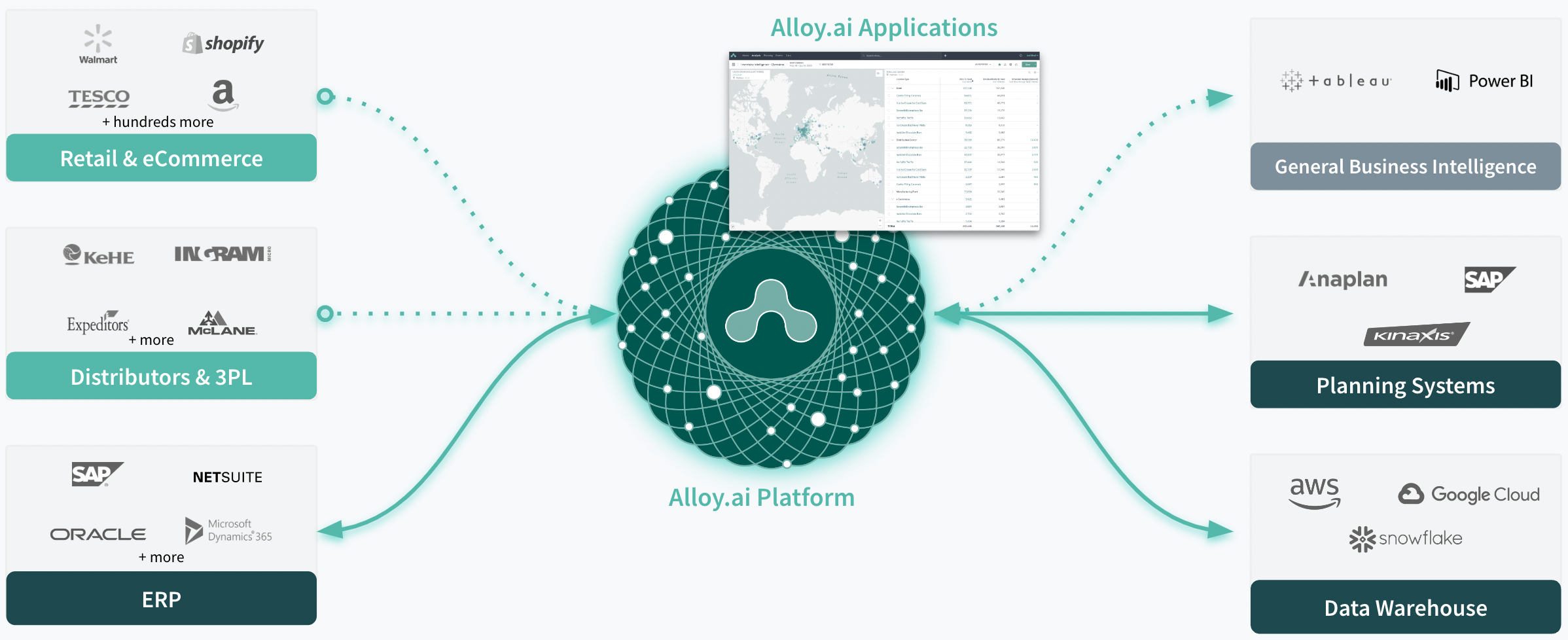 Alloy.ai uses daily SKU-store level data to give brands an early warning system when their demand and supply are out of whack.
Purpose-built for consumer goods brands
850+ pre-built connectors to automatically pull and harmonize data from all of your retailers, ecommerce partners, channel inventory and ERP.
Full visibility for every team member — all in one place
Give your teams full visibility into demand and inventory. C-Level execs and analysts alike can quickly find insights in the latest data.